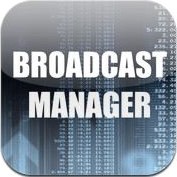 App: BCM MOBILE TOOL HD
Released
: : Jan 01, 2012
Languages: German, English
Requirements: Compatible with
iPad. Requires iOS 4.0 or later.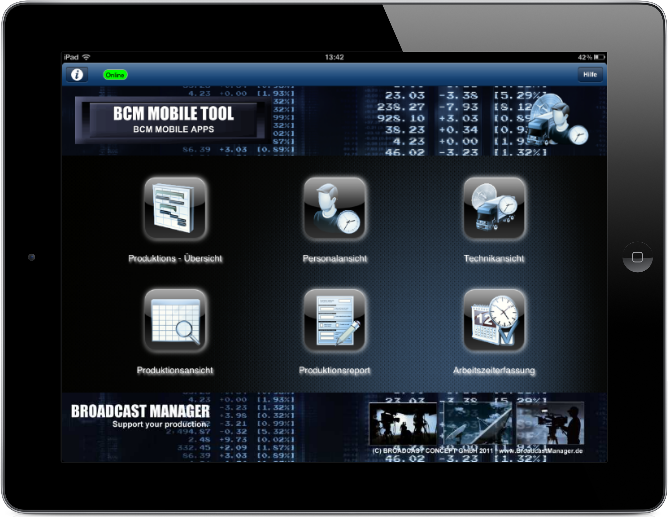 MOBILE TOOL HD is an iPad-app from the line of products BCM MOBILE APPS of the well-known Enterprise Resource Managment Software BROADCAST MANAGER (BCM) for planning of TV productions.

If you use the client/server system Broadcast Manager your staff has the possibility with this app to access at any time and in a matter of seconds your staff- and equipment planning to get detailed information about a production. Furthermore, this app offers interactive possibilities to send data directly from the production location (e.g. production report, daily timekeeping of staff members or memos) to the database of the Broadcast Manager hostsystem.

The app MOBILE TOOL HD has in total 6 comfortable sub apps:

"Production overview"
The production overview shows in a free selectable time frame of one month all planned productions of the company (in the chosen colors of the planning).

"Staff overview"
In the staff overview all salaried staff members of the company as well as their planned activities are clearly displayed in a gantt-diagramm. Freelancer can also be displayed if requested.

"Equipment overview"
In the equipment overview all the equipment of the master service provider (own production company) as well as the planned assignments of this equipment are clearly displayed in a gantt-diagram.

"Production details"
The production details show the visualization of a complete call sheet of a production including staff list, fleet, additional equipment, and all memos belonging to this production.

"Production report"
The production report is a comfortable possibility to write a detailed report right after a production, send it as soon as possible to the management, and save it in the Broadcast Manager hostsystem.

"Timekeeping"
In the timekeeping all the staff members' entered working hours and their relation to projects (productions etc.) or accounts are transferred in real time to the SQL server database of the Broadcast Manager hostsystem.

All the sub apps are connected with each other (if it makes sense) and work together.

Target group: TV production companies that use Broadcast Manager and want to give their staff with this app a possibility to get as soon as possible detailed information about production planning and its realization.

You need a Broadcast Manager system to run this app. Broadcast Manager is not part of the app MOBILE TOOL MT!